ḴA̱N'S HIłILE (MAKING IT RIGHT)
A Collaborative Reframing of Kwakiutl Film and Audio Recordings with Franz Boas, 1930
Edited by Kathryn Bunn-Marcuse, with essays and contributions by Coreen Child, Kaleb Child, and Tommy Child of the Kwakiutl (Kwagu'ł) First Nation
On his last trip to the Northwest coast in 1930, noted anthropologist Franz Boas and his Tlingit/English colleague George Hunt created audio and film recordings of crafts, games, and dancing in the Kwagu'ł village of Tsaxis (Fort Rupert), British Columbia. Boas was deeply interested in the expressive forms of Kwakwa̱ka̱'wakw culture and worked with Hunt and other members of the extended Hunt, Knox, and Wilson families to make 51 minutes of short films showing technology, games, speeches, and a variety of hereditary dance privileges, most of which are still danced today.
Ḵa̱n's hiłile (Making It Right) is an interactive, media-rich publication that explores the performative context of Kwakwa̱ka̱'wakw customary dance traditions, as documented historically and as current cultural expressions. It brings together, for the first time, film footage, wax-cylinder recordings, interviews, and a manuscript on dances produced by Franziska Boas. These materials are shaped and informed by the cultural knowledge of Kwagu'ł contributors, and complemented by essays on the editorial history of the film and contemporary commentary.
This work renews connections in a social biography fragmented by the appropriation of artifacts and materials now held in places as disparate as the Seattle Art Museum, the American Philosophical Society Library in Philadelphia, Indiana University's Archives of Traditional Music, and the Burke Museum of Natural History and Culture. It works to remedy both scholarly misconceptions about the film and issues of Indigenous and academic accessibility. Kathryn Bunn-Marcuse of the Burke Museum is collaborating with Coreen, Kaleb, and Tommy Child of Fort Rupert and other cultural consultants on the research, planning, and execution of the project. Community members explore how the return of archival material contributes to the assertion of hereditary privileges and fosters ongoing cultural education. This new presentation of the 1930 material does not reinscribe outdated approaches of salvage anthropology but underlines the continuing cultural practice of the current generation of Kwakwa̱ka̱'wakw.
KATHRYN BUNN-MARCUSE is the curator of Northwest Native art and director of the Bill Holm Center for the Study of Northwest Native Art at the Burke Museum, and assistant professor of art history at the University of Washington. Her publications focus on the indigenization of European-American imagery, nineteenth-century Northwest Coast jewelry and other body adornment, and the filmic history of the Kwakwa̱ka̱'wakw. She also tracks the practices of contemporary artists and how they are informed by the artistry of previous generations. In her role as curator, she collaborates with First Nations communities and artists to identify research priorities and to activate the Burke Museum's holdings in ways that are responsive to cultural revitalization efforts.
COREEN CHILD, YAKAWILAS, is a member of the Kwakiutl (Kwagu'ł) First Nation and has many connections to the nobility across Kwakwa̱ka̱'wakw communities. She traces her lineage to times before contact and carries many ancestral lines across Kwak'wala-speaking Nations. Coreen has served multiple terms as an elected Chief Counsellor and in many leadership positions advocating for Indigenous rights and title, the rights of Indigenous women and girls, and language and cultural revitalization. She is a traditional singer, dancer, and cultural educator, as well as a leader advocating for Indigenous communities across British Columbia and Canada. Coreen holds a bachelor's degree in education, with a specialization in language revitalization. Currently, she is the interim executive director of the Aboriginal Coalition to End Homelessness and the principal operator of Coreen Child Consulting.
KALEB CHILD, MUSGAMDZI, is a member of the Kwakiutl (Kwagu'ł) First Nation and has strong cultural knowledge through his Kwakwa̱ka̱'wakw family connections as a traditional singer and dancer. In addition to his cultural and community education, Kaleb has over twenty years of experience in teaching and leadership in Indigenous education, advocating for systemic change and Indigenous language and cultural learning. Currently, Kaleb is the provincial director for Indigenous education for the BC Ministry of Education. He holds a master's degree in education and has played lead roles in building many partnerships to support programs to promote language and cultural revitalization on Vancouver Island.
TOM CHILD, N̓A̱MSGA̱MK̓ALA, is a member of the Kwakiutl (Kwagu'ł) First Nation from Fort Rupert. He is a drum carrier for the head of his family, Chief Namugwis George Hunt, and is active in the ongoing Potlatch and Canoe traditions of the Kwakwa̱ka̱'wakw. Tom is a student of both Indigenous cultural knowledge and western science, majoring in biology and environmental studies at the University of Victoria. Striving to "walk in both worlds," he works in tourism and education, as well as in the ongoing title and rights fight for reconciliation of First Nations communities in British Columbia.
Film still: Lucy Martin Nelson dances the "Feather Dance." Filmed by Franz Boas, Tsaxis (Fort Rupert), 1930.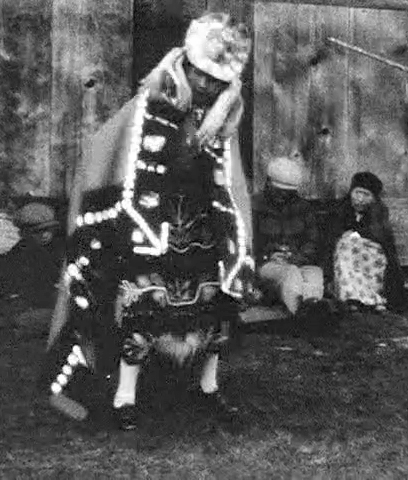 OUR PUBLICATIONS
By Elsie Paul, with Davis McKenzie, Paige Raibmon, and Harmony Johnson
Meet Elder Elsie Paul and discover her stories, family history, and teachings – ʔəms tɑʔɑw – in a multimedia, online book that captures the wit and wisdom of her storytelling.